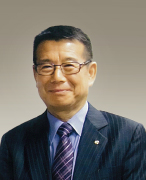 The 1st International Conference on Palliative and Supportive Care in Cancer (SCPSC) was held in 2014, the 2nd in 2017, and the 3rd is now set to be held this year (August 2020). I would like to take this opportunity to express my sincere appreciation for the support of everyone involved in cancer treatment around the world. Toward the 3rd SCPSC, it was decided to reorganize this meeting into an academic conference centered on the Asian region. The content to date has been evaluated in recent years, and there has been a demand from various quarters for a shift to an academic organization that mainly focuses on research.
In addition, it has been decided that the British Medical Journal Supportive and Palliative Care (BMJSPCare) will become the official journal of the SCPSC, based on the fact that the conference organization has made the decision to raise its status to that of an international academic conference for the the Asian region. In October 2019, after the approval of the Board of Directors, the organization officially changed its title to The International Research Society of the SCPSC, and was established as an academic society mainly engaged in cancer palliative care research. Prominent researchers from various Asian countries have been appointed as directors to support this. Soon after, in November of the same year, Dr. Augusto Caraceni, President of the Research Network of the European Association for Palliative Care (EAPC), sent an email of encouragement, expressing his hope for future collaboration. In response, we indicated that we would pursue science under the philosophy of the Prague Charter "palliative care as a human right (2013)", which was mainly drawn up by EAPC. This is the basic philosophy of the International Research Society of the SCPSC. (However, we have argued that the essence of hospice care is the protection of human rights since the opening of Higashi Sapporo Hospital in 1983.)
Science consists of the natural sciences and humanities (i.e., sociology that studies human artifacts and philosophy that studies human nature). Research on cancer palliative care, in particular, requires the pursuit of both the natural sciences and the humanities.
The International Research Society of the SCPSC is looking forward to the advancement of both the natural sciences and humanities based on the philosophy underpinning the Prague Charter. To this end, I sincerely ask for the support of people involved in cancer treatment in Japan, Asia, and around the world.


December 10th, 2019
Kunihiko Ishitani
President, Higashi Sapporo Hospital
Associate Editor, BMJ Supportive & Palliative Care